This product is rated 4.9 of 5.0 stars.
It has received 449 reviews.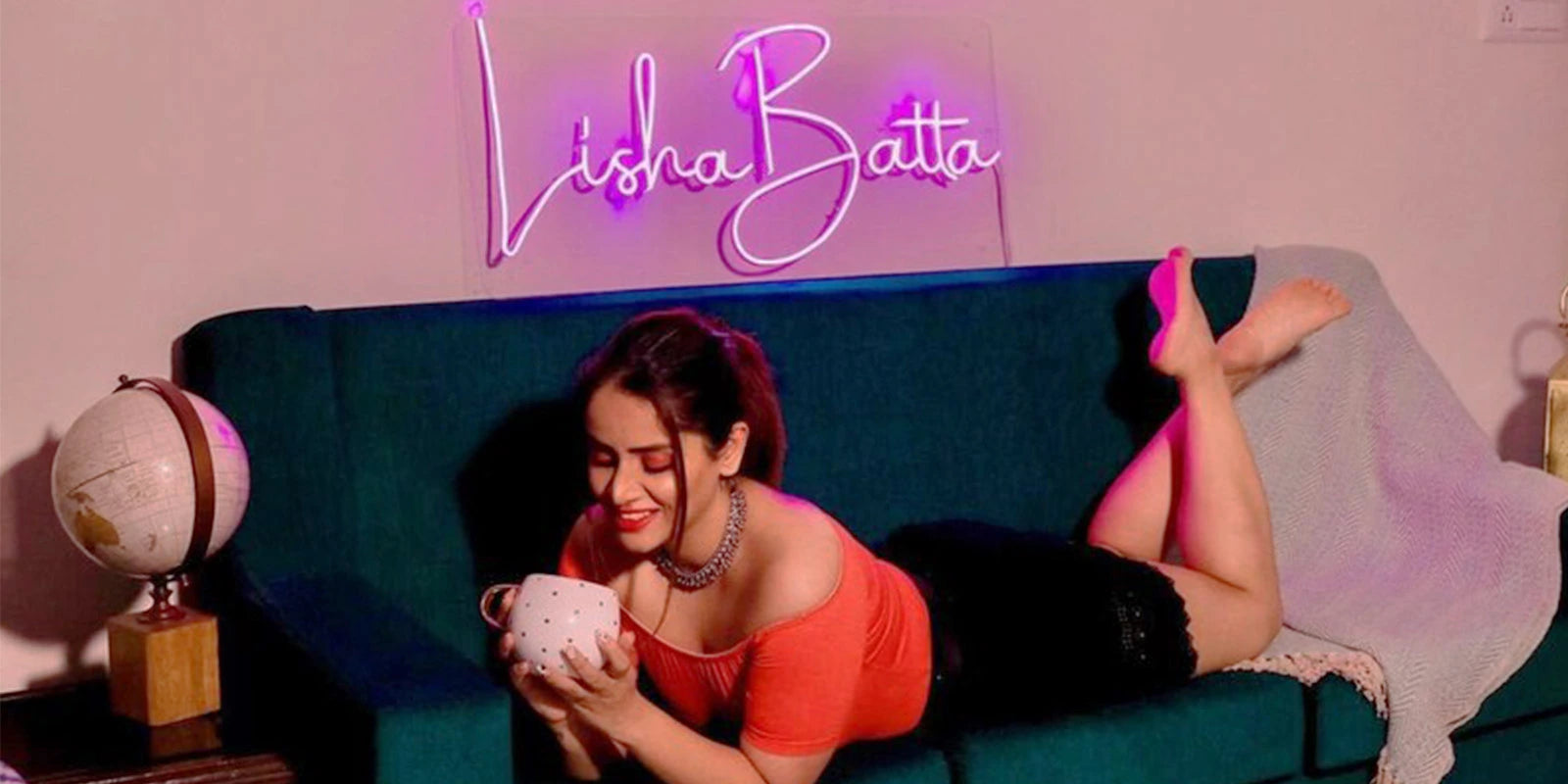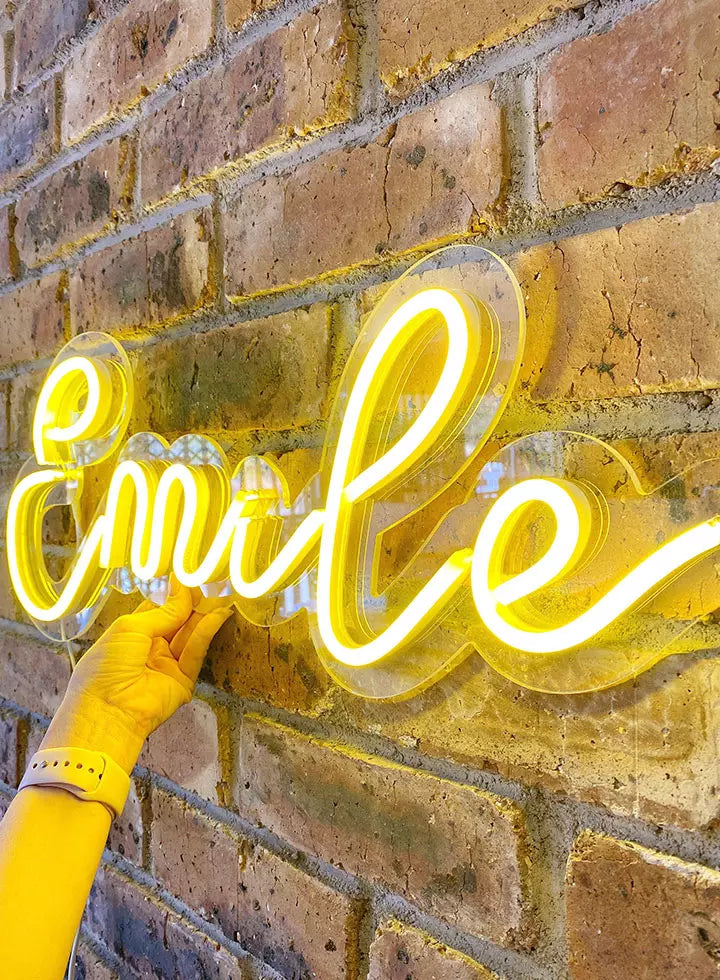 HOW TO MAKE YOUR OWN NEON SIGN
Let your creativity shine with our online neon sign maker! In just nine easy steps, you can bring your vision to life and create a one-of-a-kind piece of stunning neon wall art.
Whether you're looking to design a custom neon sign for your business, a personalized neon name sign for your wedding or a cute neon lamp for your child's room, our user-friendly tool makes it easy.
NEON SIGN MAKER ONLINE
Our online neon sign maker allows you to design and customize your own unique neon signs. With a simple and user-friendly interface, customers can choose from a variety of colors, fonts, and graphics to create the perfect sign for their business or personal use.
We offers high-quality, durable neon signs that are sure to make a statement and attract attention. Whether for a storefront, event, or home decor, Aha Neon's custom neon signs are a great way to add a unique touch of style and personality to any space.
CREATE CUSTOM MADE NEON SIGNS
Our team of talented designers and craftsmen are passionate about bringing your ideas to life, using the highest quality materials and latest technology to create eye-catching and long-lasting neon signs.
Whether you're looking to add a personal touch to your home, attract customers to your business, or make a statement at your next event, we have the expertise to make it happen.
LED NEON SIGN DESIGN
If our online neon sign maker doesn't meet your custom design requirements, reach out to us for a personalized quote. We value the opportunity to bring your neon light sign ideas to fruition, and understanding your ideas, requirements, and budget will enable us to provide a tailored quote that aligns perfectly with your needs.
Let us turn your font vision into a stunning reality. Contact us today to discuss your custom neon sign project. We can't wait to witness your neon light sign come to life, and by knowing your budget, we can ensure our quote meets your expectations.
AHA NEON LIGHT DESIGN
We specialize in bringing your vision to life. From personalized neon signs to ones designed specifically for weddings, businesses, restaurants, and even custom sidewalk displays, we offer a diverse range of options to suit your needs.Our custom neon installations have illuminated homes, offices, stores, bars, cafes, shopping malls, and have added a touch of magic to weddings, parties, and events worldwide. The best part? LED neon signs offer all the charm of traditional glass neon signs at a fraction of the cost. They are not only cost-effective but also portable, durable, and safe.
WANT AN IMAGE OR LOGO?
Are you in need of a professional and eye-catching image or logo for your business or brand? Look no further! Our skilled graphic designers are here to help bring your vision to life.
We offer a wide range of design options to suit your specific needs and style preferences. Contact us today to get started on creating the perfect image or logo for your business.
FAQs
Frequently Asked Questions from our customers.

Available Time: Monday to Friday: 8am-5:00pm; Saturday to Sunday: 12pm-12am
Average answer time: 24h
Learn more
How much does a neon sign cost?

If you are looking for a way to add some personalized flair to your space, Look no further than our custom LED neon signs! With prices starting at just $120 two letters sign, our handmade signs, lamps, and wall decor are the perfect way to make a statement without breaking the bank. And with our team of experienced designers and customer support specialists, you can trust that you'll receive unparalleled support from start to finish.

So why wait?

Order your custom LED neon sign today and let your personality shine through!
Why buy a neon light sign from Aha Neon?

Our handmade LED neon light signs are the perfect combination of affordability, durability, safety, and energy efficiency. Our custom-designed signs are made from eco-friendly LED neon light strip that are safe for kids and the environment, and they come with a 12-month warranty for your peace of mind.

Aha latest neon flex technology offers a stronger and lighter alternative to vintage glass neon, ensuring that our LED neon light signs are both durable and long-lasting. With a lifespan of over 100,000 hours, our signs are energy-efficient and cost-effective, consuming less power than traditional neon lights.

Safety is our top priority, which is why we use LED light tubes that don't get hot and contain no breakable glass. Our signs are easy to install with pre-drilled holes for hanging and wall mounting, and they're low maintenance, easy to clean, and lightweight, making them perfect for use at weddings, events, and other special occasions.

With our remote control, you'll have full control over your LED neon light sign. You can turn it on or off, adjust the brightness settings, and even set it to flash with adjustable speeds. Whether you're looking for a unique gift idea or want to add a touch of personality to your home or business, our custom neon signs offer a fun and creative way to express yourself.
How big can my custom-made neon be?

At Aha Neon, we pride ourselves on offering the highest quality LED Neon signs, available in 6/8mm thickness. Our custom signs are designed to meet your specific needs, with a minimum letter height of approximately 3-4 inches for simple/non-cursive fonts and 4-5 inches for cursive fonts.

For larger signs, we utilize two or more backboards, making it easy for you to arrange them together. This approach ensures that your signs remain safe during shipping and allows us to offer the most competitive pricing possible, without compromising on quality.

Our LED Neon signs are a perfect way to add a unique and creative touch to your home, business, or special event. Whether you're looking for a custom logo, nameplate, or a personalized message, we can work with you to design a sign that meets your exact specifications.

Our skilled artisans craft each sign by hand, using only the highest quality materials and the latest technology. Our LED Neon signs are not only stylish and eye-catching, but they're also energy-efficient and eco-friendly, making them a smart choice for any setting.

We are committed to providing exceptional customer service and offering the best value for your money. So if you're looking for a custom LED Neon sign that is both beautiful and affordable, look no further than Aha Neon.
What neon light colors can i choose?

We offer a total of 14 colors to choose from, ensuring that you find the perfect shade to match your style and decor.

No matter what color you choose, you can trust that our LED Neon signs are made with the highest quality materials and technology. Our LED Neon lights are energy-efficient, eco-friendly, and have a lifespan of over 100,000 hours, ensuring that your sign will shine brightly for years to come.

Whether you're looking for a personalized sign for your business, event, or home, our selection of colors ensures that you find the perfect match for your style and needs. Contact us today to start designing your custom LED Neon sign.
What are the backboard options?

To ensure the best possible presentation, the choice of backing depends on the font style of the sign.

For script or cursive fonts, a contoured acrylic backing is recommended, which follows the shape of the letters and provides a seamless appearance.

For simple or block fonts, a rectangular acrylic backing is recommended, which complements the straight lines of the letters.

There are various backboard options available, including clear, black, and mirrored. These options can add additional visual interest and personality to the sign, and customers can choose the backboard that best suits their needs. If a customer would like a different backboard color or type not listed, they can contact the manufacturer for a custom quote.

Available Time: Monday to Friday: 8am-5:00pm; Saturday to Sunday: 12pm-12am
Average answer time: 24h
Learn more