Create Your Own Personalized Light Sign
The signs for sale in our shop are just a handful of the popular designs we've created for other happy customers. You can choose a template you love and personalize it with your own name, initials or monogram. Or use these as inspiration to create your own design. Our neon sign maker lets you enter your own phrase and explore different font styles, sizes and backing options. You can even send us photos, drawings and ideas, and we'll help you design a totally unique neon sign.
Personalized Room Decor
Elevate your space with our trendsetting personalized neon lights! Whether you want to add a stylish touch to your rec room, home bar, or man cave or showcase your family name in elegant neon hues in your living area, entrance hall, or bedroom, our lights are the perfect choice.
Designed with safety in mind, these lights are ideal for creating an adorable baby name sign in the nursery. Crafted to last, they double as cherished bedroom decorations that will stand the test of time.
Personalized Gifts
Looking for a bright gift idea? They say it's the thought that counts – and there's nothing better than a handmade, personalized present to show someone you've been thinking about them. Our customizable light signs make great gifts for couples – you could get a cute sign for engagements, weddings, anniversaries, or even as a house warming gift. They're fantastic presents for relatives too - perfect for baby showers, christenings, birthday parties, Christmas, Mother's and Father's Day. Whatever the occasion, let the recipient know you really care about them with a personalized neon sign.
Customized Event Signage
Illuminate your event with the allure of personalized charm through our Customized Event Signage, where every detail is a reflection of your unique style. Crafted with precision, our neon signs transcend ordinary signage, becoming a captivating focal point for engagements, weddings, birthdays, and corporate gatherings.
From elegant script to contemporary designs, our custom neon signs are tailored to suit the ambiance of your event, ensuring a touch of sophistication that leaves a lasting impression.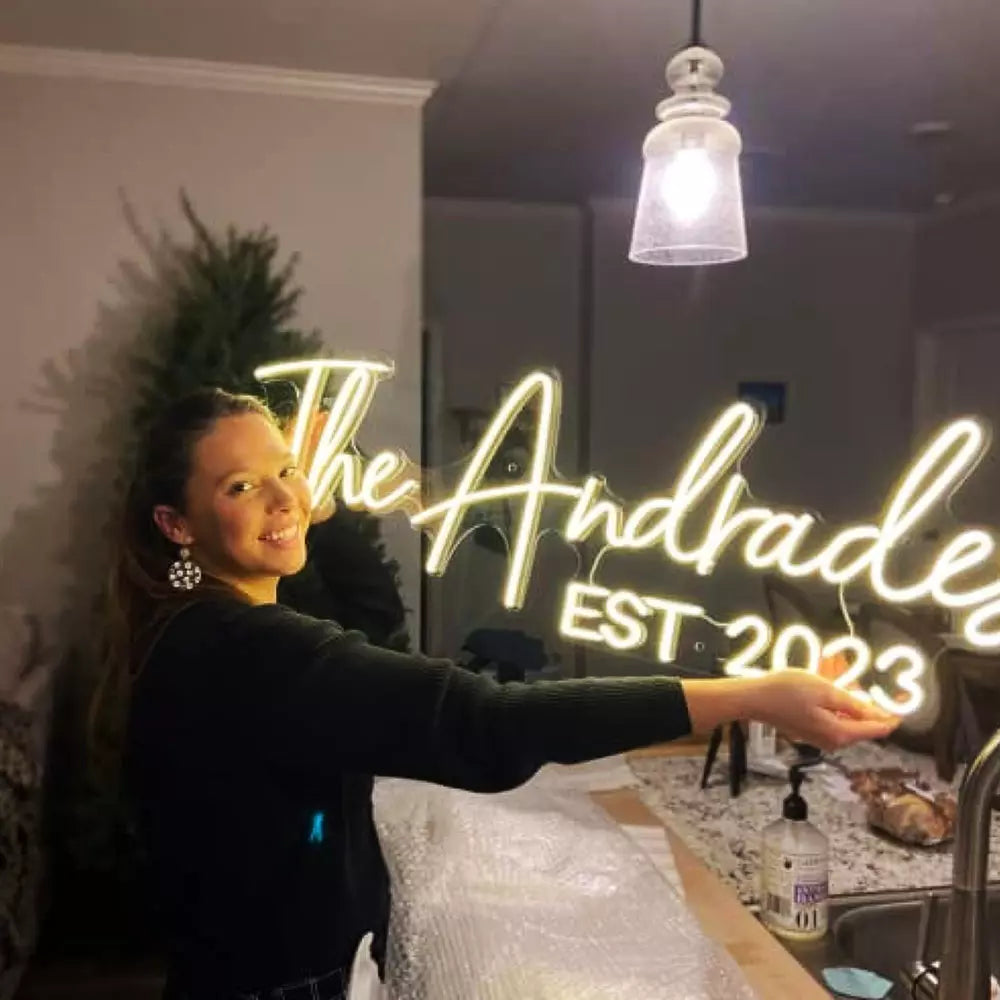 Design Your Own Neon Sign Today!
Elevate Your Space with Aha Neon's Custom Neon Signs. Our artisans turn your ideas into radiant masterpieces, infusing vibrant LED neon lights into your vision. Whether it's a unique home statement, a captivating business logo, or a heartfelt gift, our custom signs embody brilliance and individuality. Illuminate your world with personalized radiance – explore Aha Neon's custom neon signs today.
Design now