Modern Neon Wedding Signage
You can order any one of our LED neon wedding designs such as "Til Death" or "All You Need is Love", get the happy couple's name in lights, or design a Aha Neon sign that's totally unique or especially meaningful to you. As far as wedding decorating ideas go, an LED neon sign lets you add something special that can be custom designed to suit a wide variety of wedding themes.
Neon Signs Wedding Decoration
Let us help you with the wedding decor. Our beautiful LED flex neon light signs will add a bit of dazzle to your wedding photos. The best part is that we can create anything you want! From last name wedding signs to ceremony backdrops, we've even designed LED flowers for the bridesmaids and flower girls to hold during the wedding processional. Have a look through our shop for wedding inspiration, and feel free to let us know if you want something custom made.
Engagement Party & Bridal Shower Signs
Modern neon signs are a hot wedding trend and some of our most popular light signs. Check out our charming designs to get a gorgeous statement piece for your engagement or bachelorette party. We've got a wide range of awesome designs for every special occasion, including outdoor party light signs.
Personalized Wedding Gift Ideas
Need something different for the happy couple? Why not get their favorite quote or their wedding song's lyrics made into a neon light sign? Our neon LED signs are perfect as home decor – it's a wedding gift that doubles as cool wall art!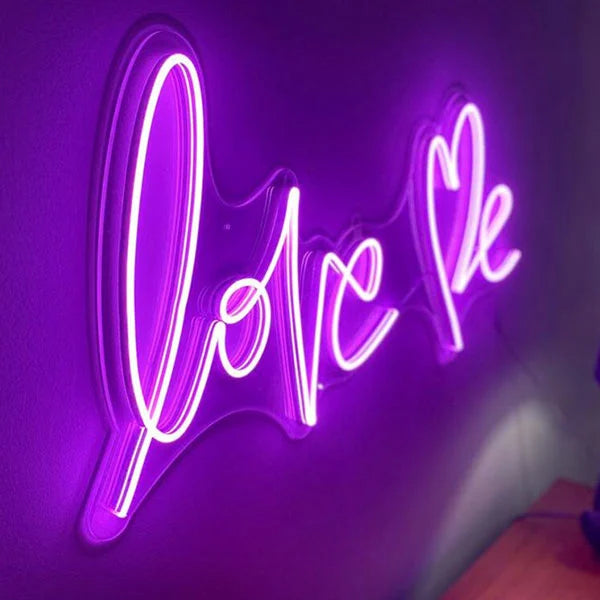 Design Your Own Neon Wedding Signs
Elevate your wedding day with Aha custom wedding neon signs. Personalize your celebration with charming signs that reflect your love story and style. Make your day truly memorable.
Design now